Ian Adamson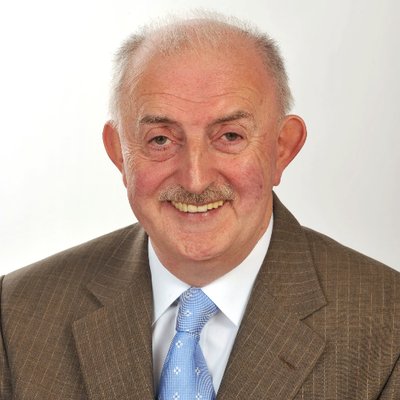 Multilingual doctor with friends on both sides of the sectarian divide who became mayor of Belfast and persuaded Ian Paisley to talk to Sinn Fein.
Politicians liked by almost everyone are a rarity, not least in Northern Ireland. Ian Adamson, an Ulster Unionist best known for being the lord mayor of Belfast from 1996 to 1997, was friends not only with loyalist combatants in the UDA, the UVF and the Red Hand Commando, but also with their enemies in Sinn Fein. He was a friend of the singer Van Morrison and of the Formula One driver Eddie Irvine. As eclectic as his friends were his range of occupations. Although he made his name in politics, not only as lord mayor, but also as high sheriff of Belfast and a member of the Northern Ireland assembly, he started out as a doctor.
He became a leading paediatrician, a specialist in community child health and in immunisation against tropical diseases. He was a linguist who could read Latin and was conversant in several languages, including Ulster-Scots, Dutch, Turkish and Sioux. He was a community activist who was involved in frontline areas of Belfast at the height of the Troubles and remained so until his death. He was a passionate advocate for a re-thinking of Ireland's role in the First World War. Above all he was a historian, whose research into the ancient history of Ireland and Britain informed his commitment to fostering cross-community dialogue in and a new sense of identity particularly for the Unionist community.
Adamson gave up medicine in the Noughties to pursue his historical studies, having already published a series of books that remain controversial. The most influential was The Cruthin – published in 1974 the yearof the Ulster Workers' Council Strike, in which he argued that before the Celtic and Gaelic-speaking populations of Ireland were established, the Cruthin (or Pretani) people had already been living in the British Isles.
The Cruthin were eventually controlled by Gaelic-speaking invaders and some were pushed back into Scotland. In this reading of history, which drew on old Irish texts, the Scots Presbyterians who came to Ulster in the 17th century under the plantation schemes were thus, in a sense, returning home and bringing with them a mixed Scottish and Gaelic heritage.
It is an interpretation of history that is challenged by many archaeologists and continues to be the subject of heated debate in Northern Ireland where it naturally irks nationalists. Adamson's use of it was to help Unionism to re-define its identity and derive a new sense of confidence as an indigenous people of the island of Ireland, rather than an out-of-place group with no stake in the ancient history of the land where they live.
Adamson described himself as "a British Unionist, an Irish Royalist and an Ulster Loyalist." As a progressive-minded politician he was committed to dialogue – unusually within the Unionist community he spoke some Irish – and he worked continually to foster what he hoped could be a new equilibrium between the two communities. In recent years he grew increasingly concerned that the peace process was still capable of going into reverse.
He was for many years Ian Paisley's personal physician and advisor, and played a key role in helping to bring the famously obdurate leader of the Democratic Unionist Party round to the idea of coming to a historic agreement with Sinn Fein.
Adamson once took a group of schoolboys from the predominantly nationalist Falls Road in Belfast, from the predominantly loyalist Shankill Road, and from inner-city Dublin on a tour of Europe in the footsteps of St Columbanus, a monk born in Leinster and schooled in Bangor in the north of Ireland who founded several monasteries across Europe. On the way home they stopped on the Somme, which opened a new avenue of inquiry in Adamson's mind. He went on become a founder of the Somme Association and the driving force behind the restoration of Northern Ireland's national war memorial, the Ulster Tower at Thiepval.
As mayor of a divided city in the months leading up to the Good Friday Agreement, Adamson was known for his preparedness to talk to anybody anywhere in Belfast. Jane Morrice, the former deputy speaker of the first Northern Ireland Assembly, remembers choosing Adamson when members were asked to pick their favourite member of the legislative assembly (MLA). "He was just an exceptional character – the breadth and width of his learning was unbounded – but he was also a very, very easy man to talk to," she recalled. "There was no intellectual snobbery. It was never a question of 'I know better than you;' it was always, 'I'd love to tell you more.' Where he really made his mark was during his tenure at City Hall – Ian was lord mayor of the whole city – he embraced everyone and everything in Belfast."
Samuel Ian Gamble Adamson was born in Conlig, Co Down in 1944. His father, John, who read widely, was from Bolton in Lancashire, while his mother, Jane, was from Kilmarnock in East Ayrshire. Together they ran the village store. He had two sisters, Isobel and Alexis, who survive him.
As a boy Adamson was a voracious reader, but he was also technically minded, and when his father bought a job lot of old telephones he installed them in the family home so that it was possible to speak to anyone in any room. He attended Bangor Central Primary School, Bangor Grammar School and Queen's University Belfast.
A loquacious speaker and deadpan wit who was a keen blogger, sharing his views online about everything from religion to social history, Adamson served on Belfast city council from 1989 to 2011. He was appointed OBE in 1998 for services to local government.
For many years Adamson lived with his widowed mother near Belfast, but surprised friends in 1998 when, at the age of 53, he married Kerry Carson, 24, a noted Northern Ireland beauty and daughter of a BBC producer. They met at a Belfast city council banquet while she was still an art student. She survives him. "Kerry's very talented,"  Adamson said. "She paints me pictures and we talk about art, history and politics. She's mature for her age and a wonderful woman. I'm a very lucky man."
He helped many people from diverse backgrounds. One of the biggest names who benefited from his financial sponsorship and counsel was Eddie Irvine, who was from the same village as Adamson. When the young Irvine was trying to make his way in motorsport in the late 1980s, Adamson came to his aid and helped him financially while he competed in his first races. Irvine, who went on to partner Michael Schumacher at Ferrari in Formula One, never forgot the gesture.
"I couldn't have done it without Ian," Irvine said. "He was very kind and he knew we were struggling. In all the time that I knew him we never talked about motor racing, not even once. We just discussed Irish history, Ulster Scots, everything but racing. He had an amazing brain and an incredible recall. He was like an encyclopaedia of history, with an astonishing memory."
Wesley Hutchinson, emeritus professor of Irish studies at the Sorbonne in Paris, worked with Adamson for many years. Summing up his contribution as a historian and politician, he said: "Ian's work is based on the premise that the past is not a trap; it should be used to open up opportunities for dialogue in and on the future."
Ian Adamson OBE, doctor and politician, was born on June 28, 1944. He died on January 9, 2019, aged 74.